Roslin Dispatch
Better manage your vehicles and drivers with our innovative dispatch and fleet management software.
Automate
Quickly match riders and drivers through automated dispatch.
Control
Instantly look into and track your fleet and ride statuses. 
Earn
Connect your fleet to Roslin Dispatch to get more rides.
Dispatch Efficiently
 Consolidate routing and dispatch operations in one intelligent platform.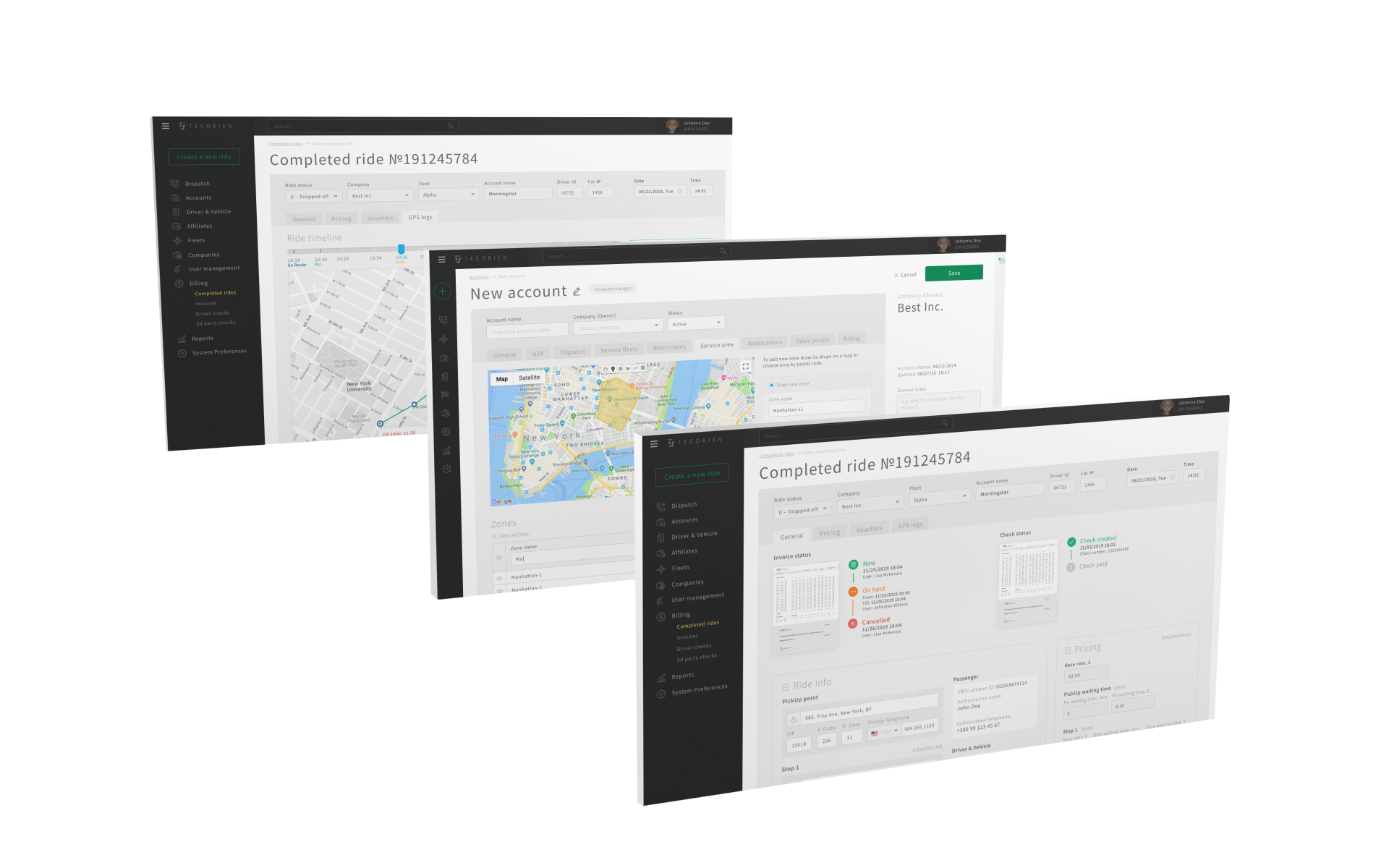 Cloud-based Technology
No software to install – manages all your information from portal, mobile apps and custom websites in real time with the same cloud data storage.
Intuitive Web Dashboard
Offers valuable insights and customizable reporting. View and generate detailed reports on reservations, employees, office, billing and more.
Visual Dispatch
Drag and drop your logged reservations to your available chauffeurs. No more fear of losing or misplacing information.
Real-time View & GPS Playback
Get a real-time vehicle view with traffic and zone overlays. GPS playback provides a full audit trail of trips for analysis and reporting.
24/7 Call-Center
Take advantage of our call center option to supplement your existing dispatch operations.
Route Optimization Engine
Roslin's route optimization engine factors in time, location, capacity and traffic to yield the most efficient routing solutions.
Optimize Routes
Roslin's integrated route optimization engine considers time, location, capacity and traffic to produce the most efficient routing solutions.
Auto Dispatch
Reduce service time and labor costs by sending to the right driver at the right time with Roslins's powerful auto-dispatch engine.
Search and Filter
Search using text, time or status based queries to quickly find drivers, customers, or rides.
Connect with Affiliates
Partner with other local fleets, send and receive jobs in real time, set rates, split revenues and costs and reduce your overhead to raise your business economy.
Efficiency and Insights
Visualize routes, on-time rates, service times, feedback scores, distance travelled and more. Unlock more insights by exporting data to CSV, or connect with Roslin's API.
Companies that have implemented Roslin have seen an increase of bookings from their corporate customers, less leakage from their affiliate partners, improved change & cancellation communications, and lower order entry costs.
Roslin's Driver App
Empower your drivers with a friendly app they will love.
Onboard
Effortlessly onboard new drivers with our simple iOS and Android apps.
Manage
Make changes or optimize and send updates to drivers in real-time.
Improve
Drive productivity and accountability with driver performance metrics.
GPS location
Job requests are based on current geolocation and optimized constantly in real time.
Driver Dashboard
List of trips per driver with rides map and all relevant details all in one place.
Edit Rides
Include tolls, parking, waiting time and end the job with a single swipe.
Update Driver Info
Manage chauffeur information with updated drivers' documentation.
Predictive ETAs
Stay proactive with accurate predictive arrival times and real-time alerts.
Driver Chat
Communicate with your team via a private, secure chat solution.
Ready to equip your fleet with the latest in dispatch technology? Contact us for a demo and pricing options.